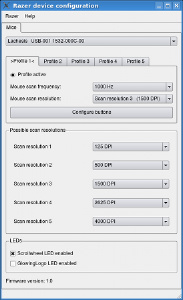 This is a collection of various Open Source projects, such as a Step 7 compatible AWL/STL Soft-PLC, a CNC remote control, a Razer device configurator for Linux, a soldering station firmware and many other exciting projects.
Your contributions are welcome due to the Open Source nature of all these projects. Feel free to contact me with questions, suggestions and regarding code improvements. Your feedback is welcome.
[2016-04-28] pilc 20160428, The Raspberry Pi based S7 compatible PLC:

[2016-03-18] awlsim 0.44, Step 7 Soft-PLC:


A Raspberry Pi GPIO hardware module was added.
Some bugs and minor issues were fixed.

[2016-03-05] Let's Encrypt:
The https certificate of bues.ch was changed to a Let's Encrypt signed one.
[2016-01-23] PiLC:
PiLC - The Raspberry Pi based S7 compatible PLC kit was born.
[2016-01-09] awlsim 0.43, Step 7 Soft-PLC:
There we go. Finally a new awlsim release. New in this version is:

Bugs in the networking code were fixed. Lots of network latency issues were fixed.
Managing of online blocks was added to the GUI.
A basic command line client tool (awlsim-client) was added.
The parser and translator speed was improved.
Compatibility with alternative Python implementations (MicroPython) was improved.

[2016-01-02] razercfg 0.33, Razer device configuration tool:
A new version of razercfg was released. Changes:

Support for the latest version of the Naga Hex was added. (Thanks to Corentin Jabot)
The Debian build scripts were improved. (Thanks to Benjamin Staffin)
Q: Are you from Switzerland?
A: No, I'm German and I live in Germany.
Q: Uhm, and why a .ch domain then?
A: Because it's my name.
You are currently accessing this site using the unencrypted and unauthenticated HTTP protocol.
You are encouraged to use the HTTPS protocol to access this site. This will encrypt all traffic securely. A Let's Encrypt based certificate is used. This certificate is recognized as trusted by most modern browsers.
If you want to contribute to any project, please read our contribution guidelines first. That will help you save a lot of time and keep wasted effort minimal.
Dual IPv4/6 access (A and AAAA record) is available via all (sub)domains on bues.ch.
IPv6-only access (AAAA record) is available via six.bues.ch.
If you encounter any problems with services on this server, contact me, please.
The CMS used for this site is a custom WSGI/Python3 based solution with a filesystem based database. It focuses on easy maintainability of the database with standard text editors.
Latest bleeding edge cms can be downloaded using the Git version control system as follows:
| | |
| --- | --- |
| via https: | git clone https://git.bues.ch/git/cms.git |
| or via http: | git clone http://git.bues.ch/git/cms.git |
| or via git: | git clone git://git.bues.ch/cms.git |
or by downloading the cms snapshot archive.
To browse the Git repository online, go to the gitweb interface.
A mirror of the repository is available on Github and on Bitbucket.
If you want to contribute to cms, please read the contribution guidelines first.
Updated: Thursday 26 May 2016 19:25 (UTC)